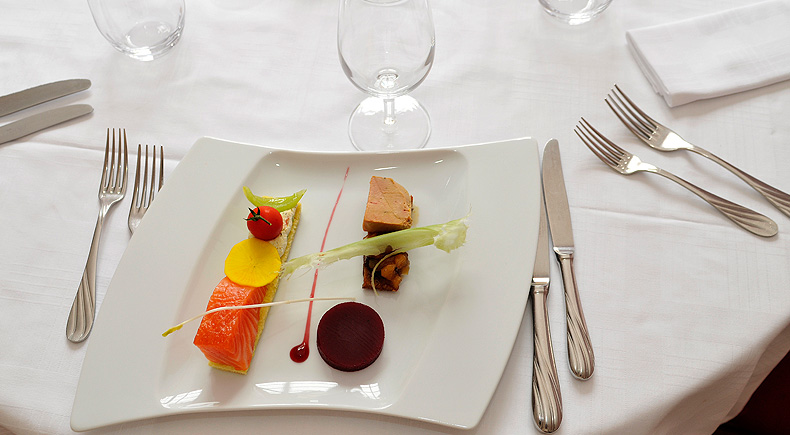 Discover our cuisine with the local products. For fish lovers, every day we offer you a choice of freshly caught fish.
La Carte

Restaurant open every evening (except Wednesday) and also open Sunday lunchtime.

OUR COLLONGEOIS MENU at €34,00 (or €29,00 starter-main course or main course-dessert) is offered to you in the evening and on Sunday lunchtime.
This gives favors local and seasonal products: smoked duck breast, trout from Moulin de Sabeau, walnuts from Chauffour sur Vell... (this menu may change slightly depending on supplies).

A fully VEGAN MENU is available.

From July 14 to September 3, 2023, a weekday lunch menu from Monday to Saturday (except Wednesday and Thursday) will be offered to you at €28 (starter, main course and dessert) or €23.00 starter-main course or main course-dessert. This menu can be consulted in our menu visible in PDF on this site.

Our MEATS are of French origin and we favor LOCAL PRODUCERS:
- "Limousine" or French beef and veal - Atelier Cowrézien - Meyssac (19) and Maison Esclaire - Brive (19)
- Lamb from Quercy or Causses de Gramat - Cowrézien workshop - Meyssac (19)
- IGP duck foie gras from the South-West - Thocaven - Le Vigan (46)
- Duck breast from South-West - Thocaven - Le Vigan (46) - or - Maison Esclaire - Brive (19)
- Trout - Jean-Bruno Estruc - Moulin de Sabeau in Beynat (19)
- Farmer Cabécou - Mr Ceyrou - Martel (46)
- Local Walnuts and Walnut Oil - Alexandre Tronche - Chauffour Sur Veil (19)
- Honey - Régis Sellès - Beekeeper in Aubazine (19)
- Violet mustard from Brive and liqueurs - Maison Denoix - Brive (19)
- Bread - Mr Bos - Artisan Baker - Meyssac (19)
- Salad, radish, zucchini... - Sylvain Tronche - Laurent Picard - Ligneyrac (19)

RESERVATION STRONGLY RECOMMENDED, THE NUMBER OF PLACES IS LIMITED

Information on the mandatory declaration allergens present in our dishes is available on request, or can be consulted freely in our restaurant.

For children (up to 11 years old), Menu at 12.50 euros:
- Piece of Poultry or Fish with potatoes of the day or pasta, and vegetables
- Flognarde with apples Or Cup of ice cream and sorbets (2 scoops)
- Cordial

PLEASE BOOK YOUR TABLE
For children (4 to 11 years)

Piece of chicken or fish of the day, pasta or potatoes, and seasonal vegetables

**********************
Flognarde of gently cooked apples and a salted butter caramel
Or 2 balls of ice cream or sorbet with or without whipped cream

**********************
Cordial

12,50 €
Groups

Menus from 28.00 € all inclusive (starters, main course, cheese, dessert, ¼ wine, coffee) at lunch during the week or 38.00 € at lunch on sunday.
Do not hesitate to contact us for a quotation.
We are at your disposal and can adapt our offers in order to suit your event and your desires.